Module 36801
Coordinator:
Prof. Dr.-Ing. Götz T. Gresser (ITFT) and PD Dr.-Ing habil. Thomas Stegmaier (DITF)
This lecture (lecture series) cover the presentation of selected examples for the implementation of biologically inspired developments in technology. Experts from research and industry, members of the Competence Network "Biomimetics", will speak on various topics (e.g. Mercedes Bionic Car, Lotus Effect, etc.) and much more.
The module (altogether 2 SWS, 3 LP) consists of two parts (part 1 in SS and part 2 in WS).
Please find here our current lecture plan.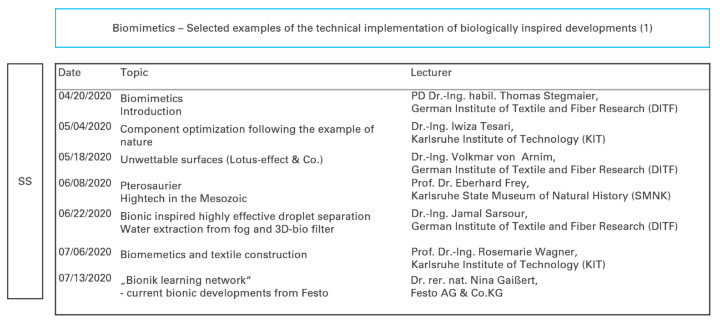 Participation is possible in SS or from WS.
PD Dr.-Ing. habil. Thomas Stegmaier
Körschtalstraße 26, 73770 Denkendorf