In collaboration with the DITF Denkendorf we offer the specializations "Textile Technology" respectively "Fiber and Textile Technology". The deep knowledge about processes and machines for the production of yarns, textile surfaces and surface treatments as well as testing is conveyed here. Modern applications in the field of technical textiles and fiber-reinforced composites as well as products for medical and biomedical engineering are of central importance.
There are many things that will surprise you about textiles.
Would you have known that ...
with sales of over 28 billion euros and more than 400,000 jobs worldwide, the German textile and apparel industry is among the world's technological leaders?
Germany is the world's leading exporter of textile machinery with a market share of 25%?
every fourth textile machine worldwide comes from Germany, but only every tenth car?
Germany has a market share of 40% for technical textiles in Europe?
the proportion of textiles per passenger car today is approx. 30 kg (with a rapidly rising trend)?
textile implants play a very important role in medicine, e.g. in heart operations?
This small selection of examples clearly shows:
The future is ...
... textile! (Euratex)
No other specialization offers such promising national and international career opportunities.
Career prospects:
Textile Mechanical Engineering
Textile Research
Textile and clothing industry

German textile machinery manufacturers dominate the world market
Over 600 companies employ approx. 15,000 people and produce textile machinery and accessories worth over €3 billion
With an export quota of 95%, textile machinery manufacturing is the strongest export sector of the entire mechanical engineering industry in Germany

Nationwide 16 textile research facilities
DITF Denkendorf is the largest textile research center in Europe

More than 1,200 (mainly medium-sized) companies with a total of 120,000 employees
Turnover: about € 27 billion per year
Technical textiles have a share of over 40%à Top position in Europe
Depending on master's program, the specialization consists of different modules, whereby the courses in both modules are identical.
Process Engineering SF "Textile Technology"
Fiber and textile technology 1 (6 SWS, 9 LP) in WS
Fiber and textile technology 2 (6 SWS, 9 LP) in SS
Mechanical Engineering, Technology Management
SF "Fiber and Textile Technology"
Fiber and yarn technologies (4 SWS, 6 LP) in WS
Textile testing technique and statistics incl. exercises (2 SWS, 3 LP) in WS
Textile surface production processes (4 SWS, 6 LP) in SS
Technical textiles and fiber-reinforced composites (2 SWS, 3 LP) in SS
The specialization can be started in both WS and SS.
Contact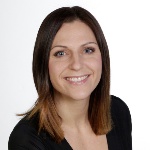 Martina De Lorenzo
Assistance to the Management, Administration, Controlling