Prof. Dr.-Ing. Götz T. Gresser, head of ITFT and speaker of the board of DITF, offers the specialization "Textile Technology" respectivley "Fiber and Textile Technology" for different master's programs. Students can take part in the lectures, internships and excursions in bachelor's and master's programs in the fields of Chemical and Bioengineering, Process Engineering, Mechanical Engineering, Technology Management and Medical Technology.
Despite different module divisions, the offered courses are identical for all students. Therefore, it is possible to attand them in WS or in SS.

Detailed information about our lectures can be found at C@MPUS also.
Contact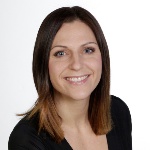 Martina De Lorenzo
Assistance to the Management, Administration, Controlling