Demonstrator Video
02:49
Video transcription
The braided branch exemplifies the application potential of fiber-reinforced, braided components as structural supporting elements in civil engineering. The supporting structure consists of a steel framework with glass and carbon fibers braided onto it. In the case of the demonstrator, the fibers are unimpregnated. In the application case, the hull would be braided, impregnated and the braiding mandrel would be removed, resulting in a hollow body. This hollow body would be filled with concrete and thus serve as a "lost formwork". By confining the concrete with fibers, its compressive strength is increased. At the same time, the fibers in the hull can absorb bending moments that occur in the supporting structure.
The material and process are thus an alternative to conventional casting steel nodes that are used in such supporting structures, but whose production is very energy-intensive. The branched supports of the Stuttgart airport building are an example of such a steel structure.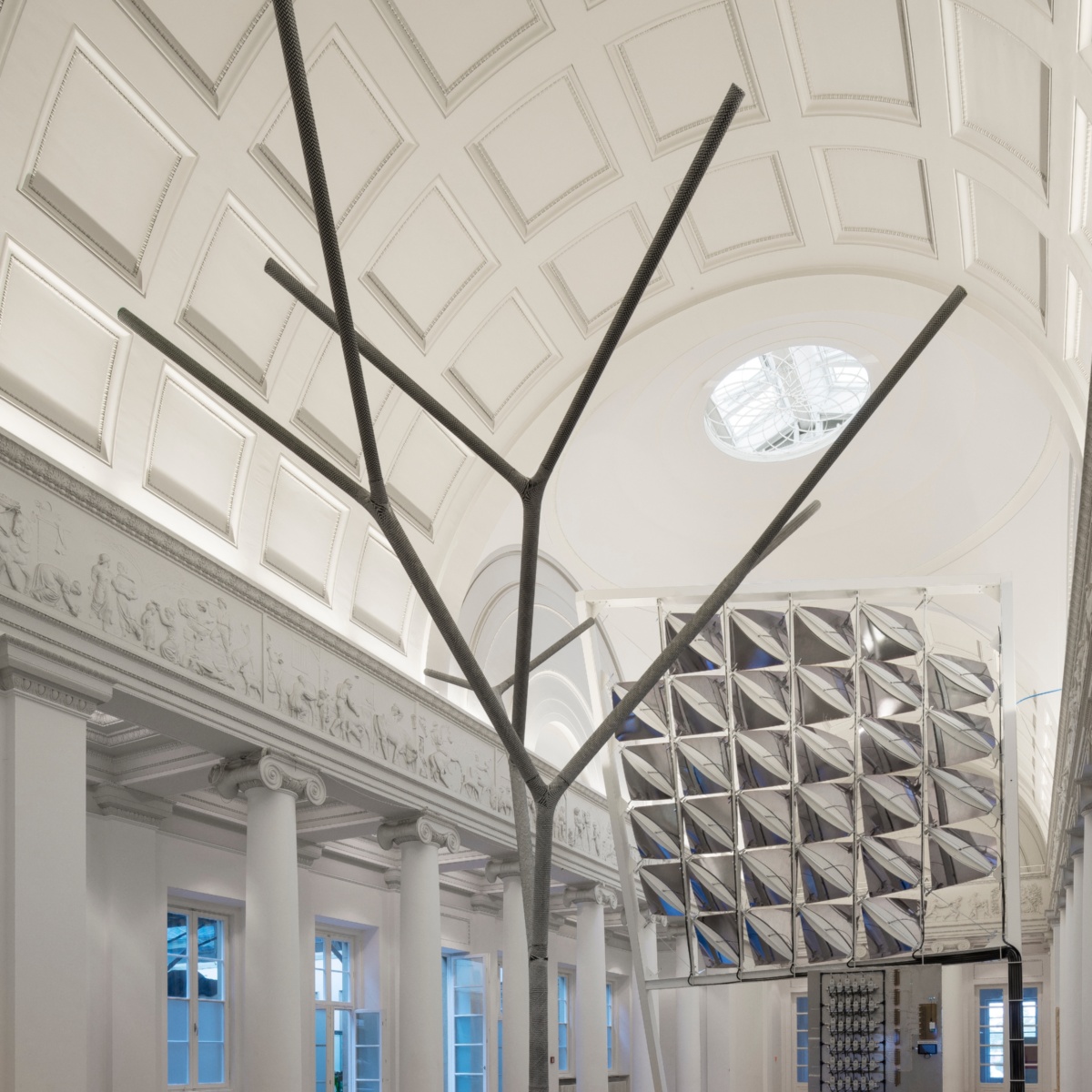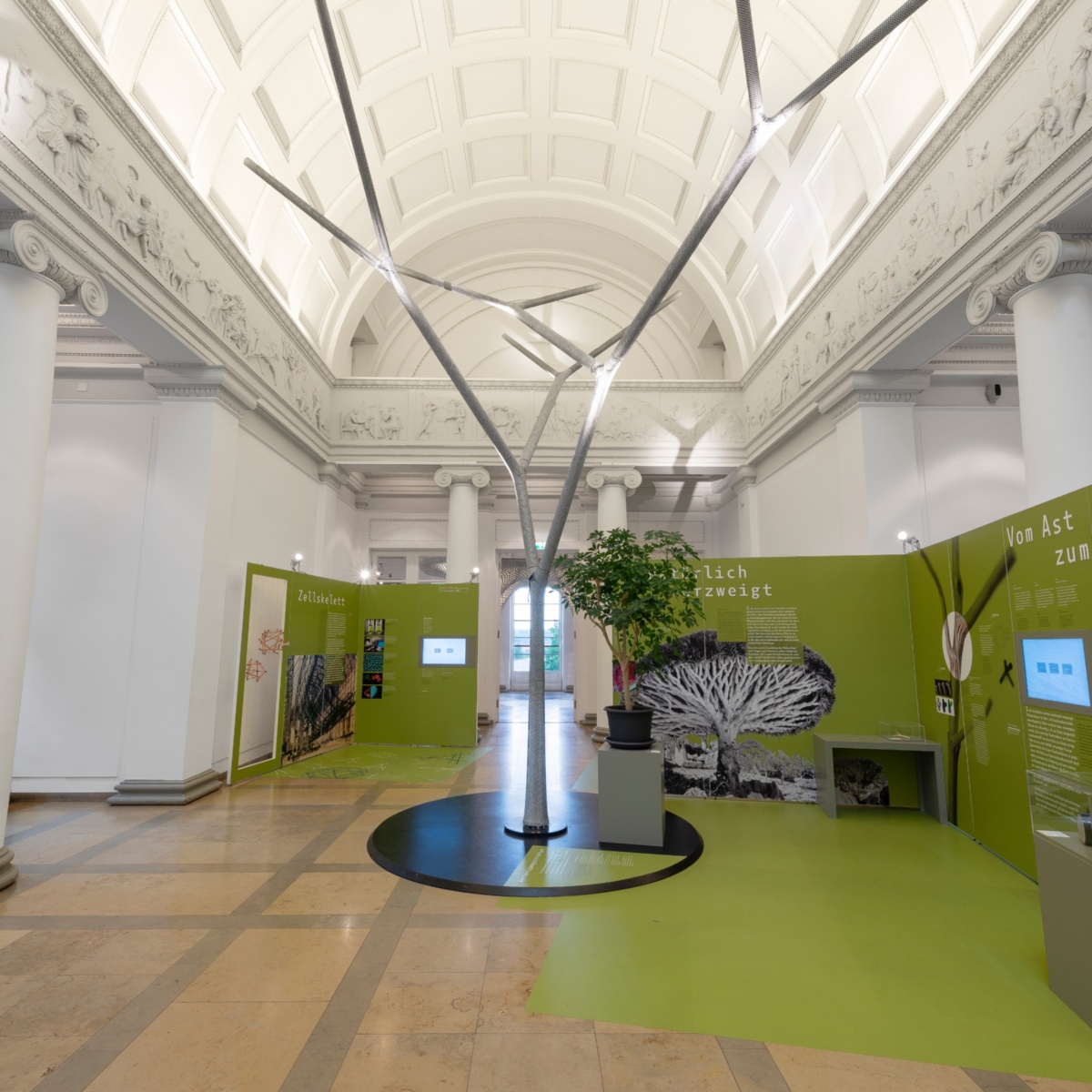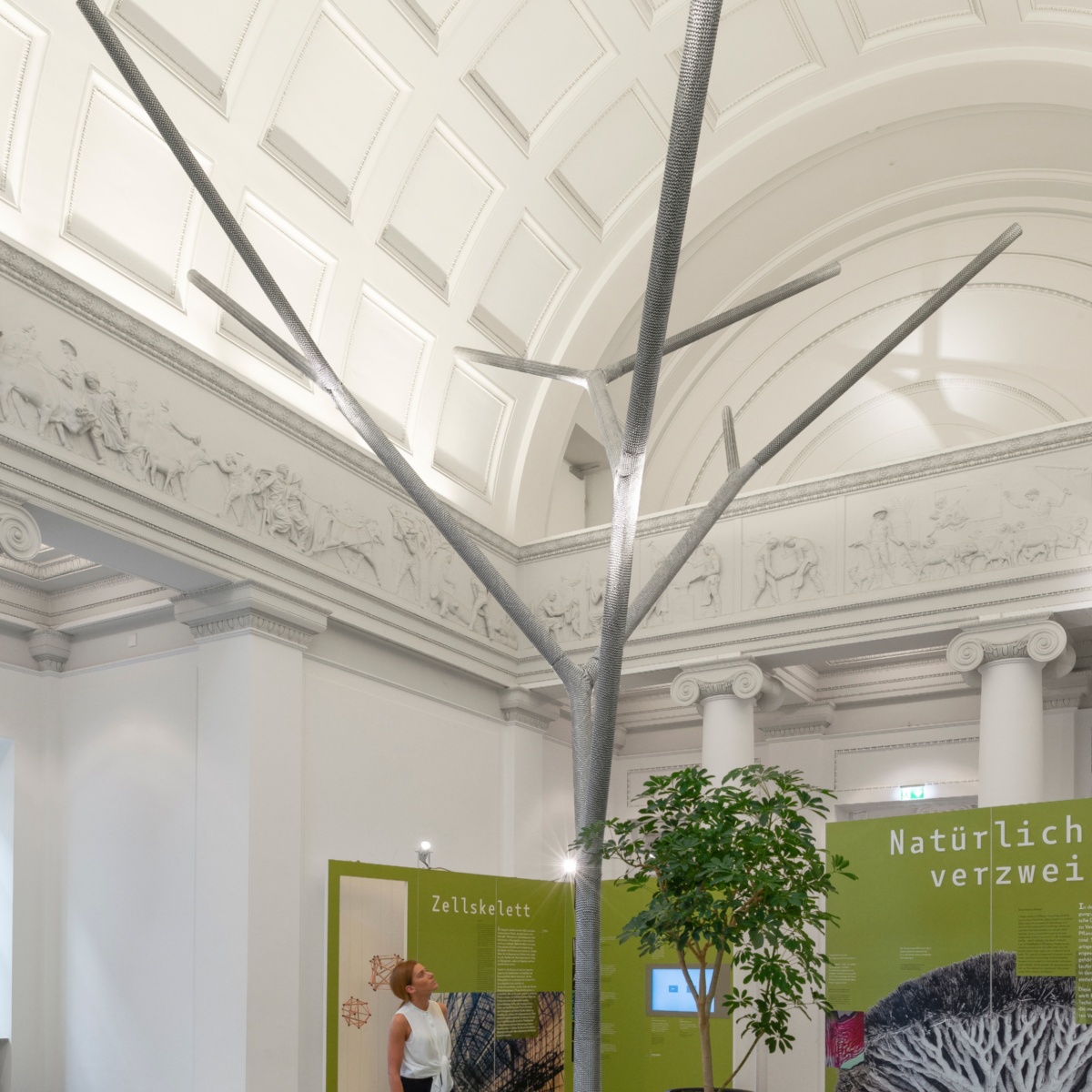 In the branched column, 7 nodes each with different geometry and 15 rod elements are installed. The total height of the column is approx. 6 m and the diameter of the rods is up to 127 mm.
The braided branch was exhibited as part of the BauBionik exhibition from 17.10.2017 to 01.05.2018 at the Natural History Museum in Stuttgart.
Project Team
ITKE Institute of Building Structures and Structural Design
University of Stuttgart
Prof. Dr.-Ing. Jan Knippers
ITFT Institute for Textile and Fiber Technologies
University of Stuttgart
Prof. Dr.-Ing. Götz T. Gresser
PBG Plant Biomechanics Group, Botanical Garden
University of Freiburg
Prof. Dr. Thomas Speck
Design Development
Florian A. Jonas
Scientific Development
Larissa Born, Florian A. Jonas, Claudia Möhl, Katharina Bunk, Tom Masselter
with support of
Marie Baarends, Arda Ewert, Thomas Kaiser, Tobias Krause, Marion Lütz, Pascal Mindermann, Tessa Rudolph, Tamara Voss, Ramon Weber, Johannes Zehrer
Publications within the scope of this project
Born L, Jonas FA, Bunk K, Masselter T, Speck T, Knippers J et al. Branched Structures in Plants and Architecture. In: Knippers J, Nickel KG, Speck T, editors. Biomimetic Research for Architecture and Building Construction. Cham: Springer International Publishing; 2016, p. 195–215.
Möhl C, Born L, Küppers S, Jonas FA, Milwich M, Gresser GT. Manufacturing of branched structures for fibre-reinforced plastic-concrete-hybrid composites. In: DGM - Deutsche Gesellschaft für Materialkunde e.V., editor. Hybrid - Materials and Structures 2018: Proceedings; 2018, p. 165–170.
Jonas FA, Knippers J, Gresser GT, Born L, Milwich M. Branching Node for Building Construction and Method for Producing the Branching Node for Building Construction: EP (3460114 B1); 2018.
Bunk K, Jonas FA, Born L, Hesse L, Möhl C, Gresser GT et al. From plant branchings to technical support structures. In: Knippers J, Schmid U, Speck T, editors. Biomimetics for Architecture. De Gruyter; 2019, p. 144–152.
Jonas FA, Born L, Möhl C, Hesse L, Bunk K, Masselter T et al. New branched loadbearing structures in architecture. In: Knippers J, Schmid U, Speck T, editors. Biomimetics for Architecture. De Gruyter; 2019, p. 153–162.
Funding
This research has been funded by the German Research Foundation (DFG) as part of the Collaborative Research Centre (CRC/Transregio) 141 'Biological Design and Integrative Structures'/project A06.