Within project B04 of the Collaborative Research Center Transregio 141 fiber-reinforced plastics were utilized as textile reinforcement for complex shaped thin concrete shells. Such high performance structures cannot be fabricated without some kind of rigid and thin reinforcement. Compared to conventional concrete components, the ones produced with this technique are significantly lighter thus resource-saving.
Within the project a pultrusion process with UV radiation curing for curved profiles was developed. The focus was on the processing of glass fibers, but also basalt and carbon fibers can be used likewise with a low cycle time. Since materials like basalt and carbon are not permeable to ultraviolet light, various substances were added to the resin system in order to achieve a curing into the depth of the roving. To produce curved profiles, a flexible, UV-permeable tool was designed and successfully deployed.
For the manufacturing of complex shaped parts with textile reinforcement, the fiber deposition of impregnated carbon rovings is investigated. A fiber placement head for robotic deposition and winding applications for scalable components was developed.
The focus was on the implementation of a thin walled concrete shells with macroscopic breakthroughs, whereby the pore size corresponds to the distribution of the load. The large-scale demonstrator consists of several double-curved shell elements with a thickness of approx. 3 cm. By this fiber placement technology in combination with or without the concrete shell elements, it is possible to realize cantilever components for primary structures for a variety of applications.
One result of B04 is a pavilion consisting of serveral double-curved shell elements as large-scale demonstrator which was displayed as part of the special exhibition "Baubionik – Biologie beflügelt Architektur" in Schloss Rosenstein at the Museum for Natural History Stuttgart, Germany.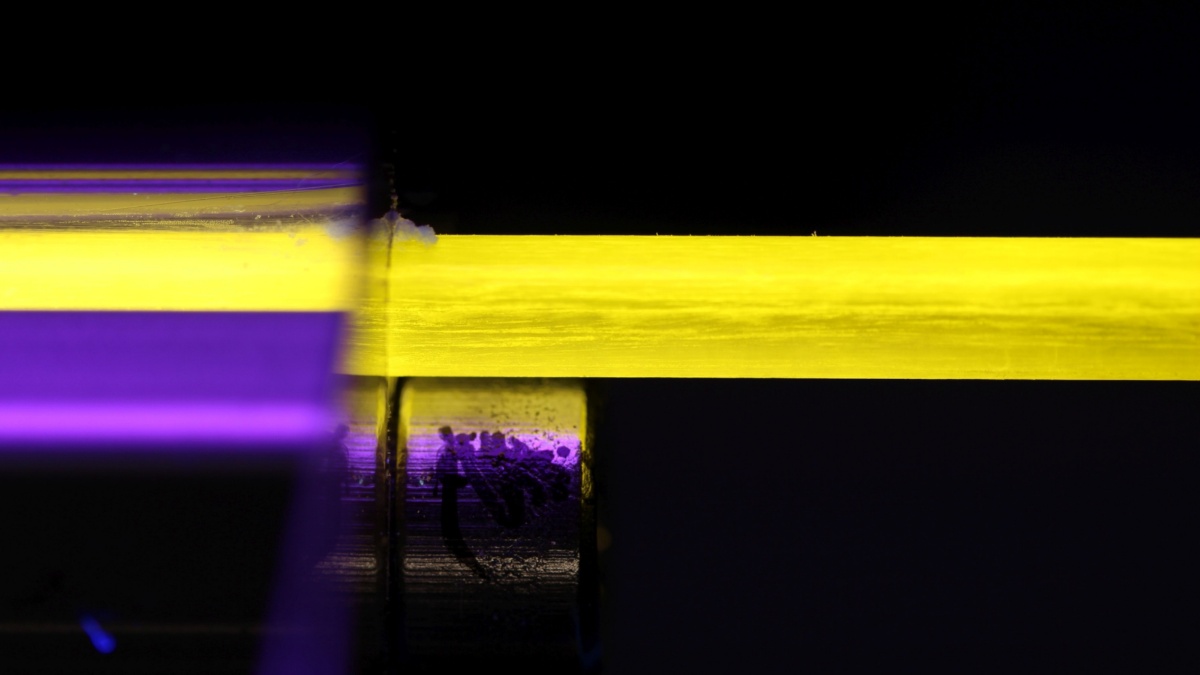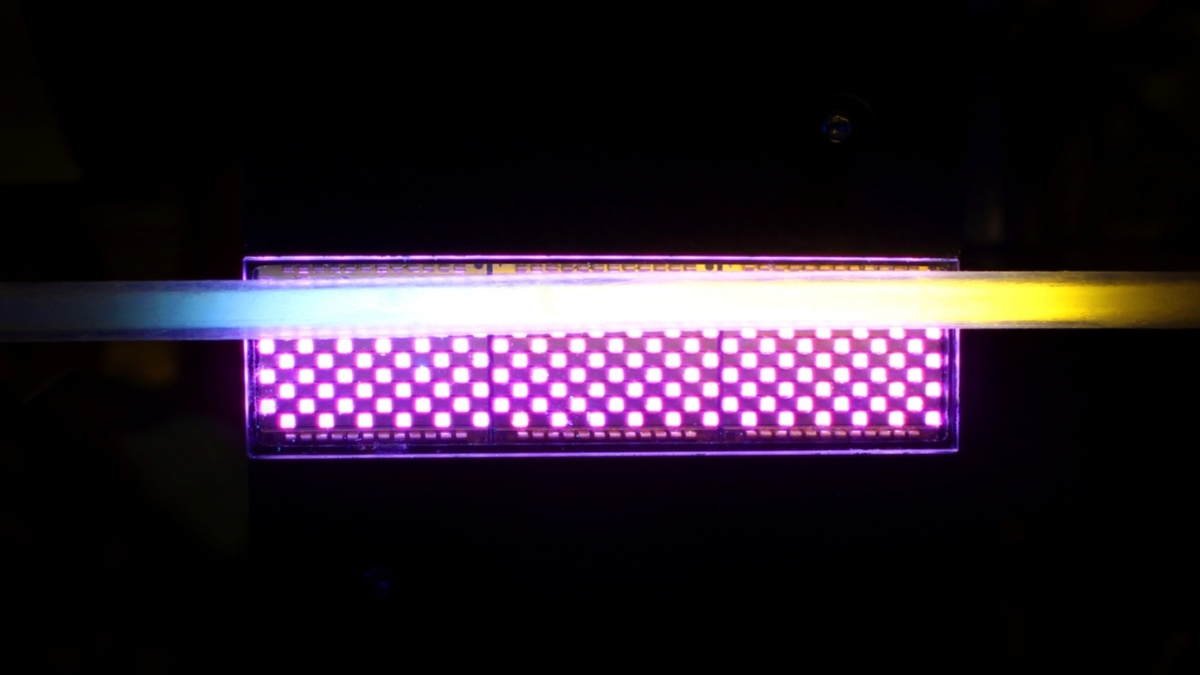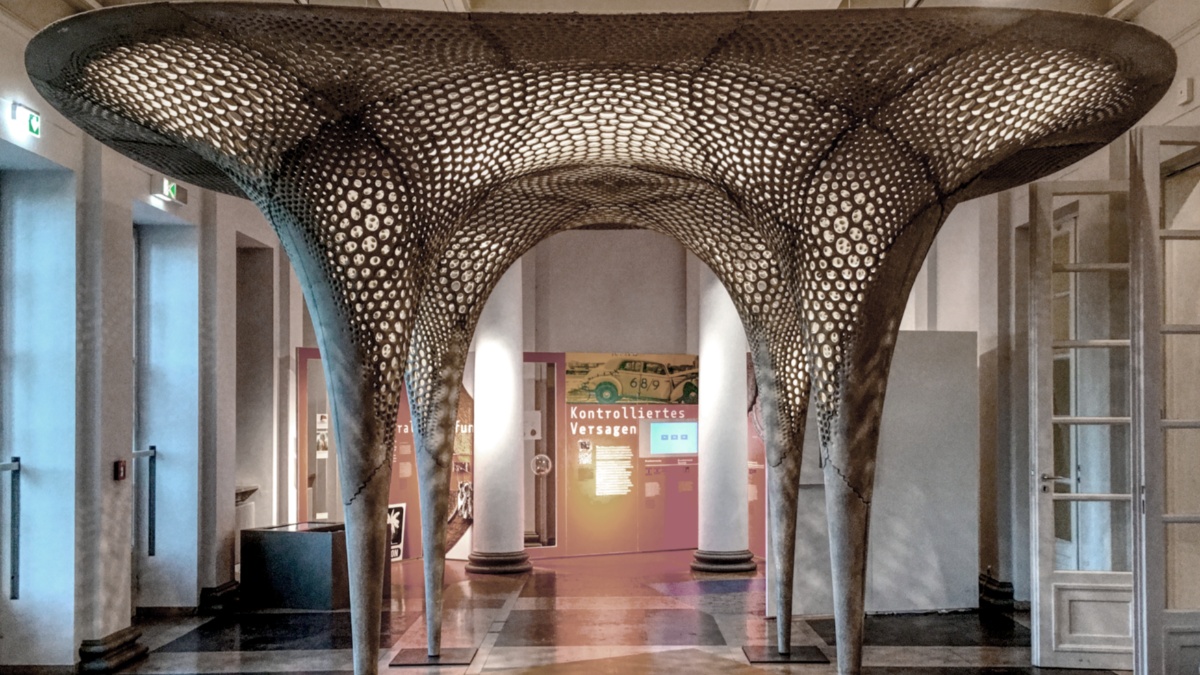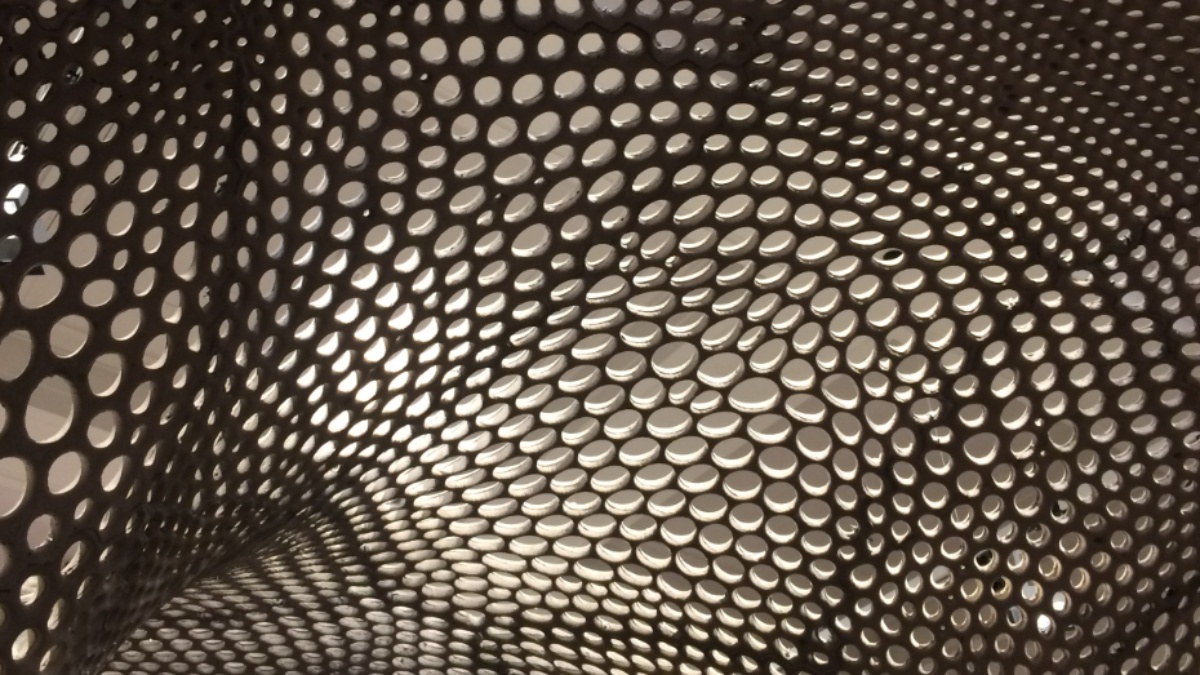 Project Duration
October 2014 – June 2018
Project Team
ITFT Institute for Textile and Fiber Technologies,
University of Stuttgart
Prof. Dr.-Ing. Götz T. Gresser, Hans Christof, Pascal Mindermann
ILEK Institute for Lightweight Structures and Conceptual Design,
University of Stuttgart
Prof. Dr.-Ing. Werner Sobek, Daria Kovaleva
ISW Institute for Control Engineering of Machine Tools and Manufacturing Units,
University of Stuttgart
Dr.-Ing. Armin Lechler, Daniel Coupek, Frederik Wulle
Funding
This research has been funded by the German Research Foundation (DFG) as part of the Transregional Research Centre (SFB/Transregio) 141 'Biological Design and Integrative Structures' / project B04.
Further Information on the Collaborative Research Centre (CRC) TRR-141