Within project A06 of the Collaborative Research Center Transregio 141 plant branching principles, mainly stem-branch attachments, with regard to their functional principles and their transferability to technical applications were investigated. The applications envisaged within the project are supporting structures for construction industry. The manufacturing process for knot structures, as needed for structural designs, is very complex: It means that each geometry requires a mold whose production is very cost-intensive, so that flexibility, material savings as well as resource efficiency at this point are set aside and standardized geometries find application.
The branching of Schefflera arboricola and its finger-like branching structure was considered to be a particularly promising biological concept generator for fiber-reinforced branching structures with load-path adapted geometry and fiber arrangement.
A specially customized braiding technique, using a triaxial braid and adapted fiber orientations regarding the load-case of the final component, allowed to produce a fiber-reinforced plastic hull, which fulfils the requirements concerning material efficiency as well as flexibility regarding a load-path adapted external shape. The FRP hull serves as lost formwork for a filling with concrete (patent pending). Within the manufactured hybrid material component the two components complement each other optimally: In the application case, the hull transfers tensile forces due to fiber reinforcement and the concrete absorbs the pressure forces.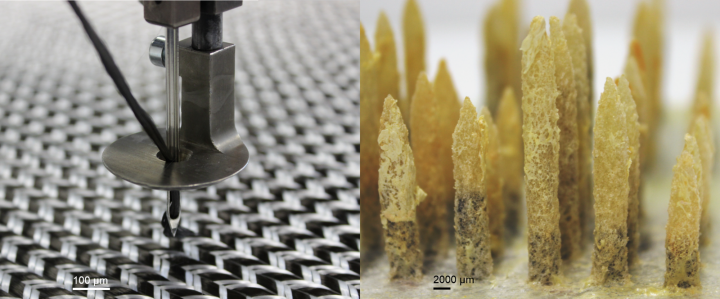 This material supplement is only possible if a form and force fitting of hull and filling can be guaranteed. The connection of the concrete filling to fiber composite plastic hull is ensured by reinforcement pins. In this context, the tufting process known from the carpet industry was adapted to produce fiber-reinforced pins (patent pending).
The 6.2 m high large-scale demonstrator shown within the exhibition "Baubionik – Biologie beflügelt Architektur" (October 2017 – May 2018) proves the applicability of the developed braiding process on a scale relevant in the building industries.
Braided branch large-scale demonstrator
This video shows the biomechanical investigation-methods for branched plant samples using the example of Schefflera arboricola as well as the concept studies, design and fabrication of the large-scale demonstrator of project A06: The large-scale demonstrator, a braided branched structure which spans an area of about 6 x 6 m², was displayed as part of the special exhibition "Baubionik – Biologie beflügelt Architektur" in Schloss Rosenstein at the Museum for Natural History Stuttgart, Germany.
Project duration
October 2014 – June 2018
Project team
ITFT Institute for Textile and Fiber Technologies, University of Stuttgart
Prof. Dr.-Ing. Götz T. Gresser, Larissa Born, Claudia Möhl
ITKE Institute for Building Structures and Structural Design, University of Stuttgart
Prof. Dr.-Ing. Jan Knippers, Florian A. Jonas
PBG Plant Biomechanics Group, University of Freiburg
Prof. Dr. Thomas Speck, Tom Masselter, Katharina Bunk, Linnea Hesse
Funding
This research has been funded by the German Research Foundation (DFG) as part of the Transregional Research Centre (SFB/Transregio) 141 'Biological Design and Integrative Structures' / project A06.